France vows to 'destroy' ISIL after deadly Paris attacks
Comments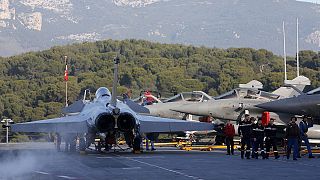 France is vowing to "destroy" the ISIL militant group after last Friday's attacks in Paris, which left 129 people dead and hundreds injured.
In a television interview, French Prime Minister Manuel Valls said his country is facing a "long" war against those behind the bloodshed. But he added that he is confident they will be defeated.
"This terrorist organisation is receding today in Iraq and is the subject of intense bombardments – and we must continue it," said Valls.
"It is the wish of France, and of the French President, to fight this war until the end – to destroy Daesh in Iraq and in Syria."
Meanwhile, America says it can "neutralise" the so-called Islamic State – and fast.
"We are going to defeat Daesh. We always said it will take time," said John Kerry, US Secretary of State.
"We began our fight against al-Qaeda in 2001 and it took us quite a few years before we were able to eliminate Osama bin Laden – and the top leadership – and neutralise them as an effective force. We hope to do Daesh much faster than that."
France has intensified its air campaign in Syria since the Paris attacks, striking ISIL's stronghold in Raqqa. Two command centres are said to have been among this week's targets.
Russian bombers are reported to have hit ISIL's oil infrastructure in Syria. Moscow's foreign minister has urged all countries standing against the militants to consolidate their actions and remain united.