EU ministers in emergency meeting to discuss tackling terrorism
Comments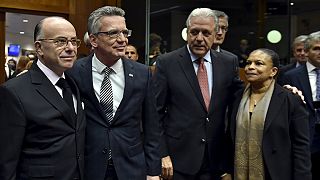 European Union Justice and Interior Ministers are undergoing crisis talks in Brussels to discuss new and improved measures for tackling extremism.
Tightening the borders of the passport-free Schengen Zone will be high on the agenda. France is pushing for EU citizens to be submitted to the same checks as non-EU travellers.
"We asked for this meeting because Europe has lost too much time over a number of urgent points and today we want Europe to take the decisions needed," the French Interior Minister, Bernard Cazeneuve said.
Among other key topics up for discussion are the trafficking of firearms, terrorist financing, judicial response and European Passenger Name Records, or PNR.
When asked about the last point, Belgium's Interior Minister, Jan Jambon, replied:
"The best case scenario would be to form a body (organisation) at a European level to implement this system. But it's been blocked in the (European) parliament. Today, I hope we'll be able to start moving forwards with this."
Belgium has come under criticism in the wake of last week's Paris attacks (November 13). Connections have been found between the country and weapons used in the assaults, while the town of Molenbeek, in the Belgian capital has repeatedly been linked with terror attacks on Europe in the past decade.