Two suspects dead and eight arrested in raid linked to Paris attacks
Comments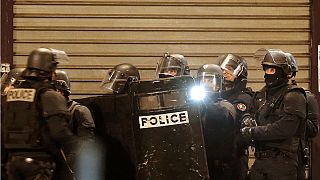 Authorities in Paris say at least two terrorist suspects were killed and eight arrested in Wednesday morning's police operation linked to the attacks in the city last Friday.
we fired almost 5000 bullets. In.in certain places the building was in danger of collapsing
The raid in the suburb of Saint Denis in the north of Paris started just after four AM on Wednesday and lasted until almost midday.
It involved fierce gun battles and a number of explosions. Police one of the suspects, a woman, blew herself up, while a second person, a man, is believed to have been killed by grenades or gunfire.
"The raid was extremely difficult – the security door held up to the first round of explosives, which allowed the terrorists to prepare their response, prolific gunfire that went on interrupted for nearly an hour," said Paris Prosecutor Francois Molins. "I can tell you that on the police side we fired almost 5000 bullets..in certain places the building was in danger of collapsing and we had to slow down the investigation so that we could prop up certain walls to let the investigators continue to work in safety."
Many people around the operation had to be moved from their homes this morning, schools had to remain closed and most local transport was suspended.
The security forces were acting on intelligence suggesting that the man who they think masterminded the Paris attacks, Abdelhamid Abaaoud, was in the building.
They said he wasn't one of the arrested men and attempts to identify the dead suspects were still underway.
Police sources also said that attacks had been prevented at Charles de Gaulle airport and La Defense shopping centre in Paris.