Paris attacks give momentum to fight against ISIL
Comments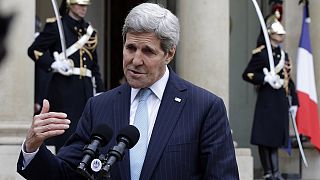 The Paris attacks continue to add urgency to the international fight against ISIL.
The US Secretary of State, John Kerry, arrived in Paris on Monday to pay his respects to the victims but also to meet with President Francois Hollande.
Secretary JohnKerry</a>&#39;s remarks after his meeting today with <a href="https://twitter.com/hashtag/France?src=hash">#France</a>&#39;s President <a href="https://twitter.com/fhollande">fhollande: https://t.co/lsC8VWadOk. pic.twitter.com/2lnqmTTVqG

— Department of State (@StateDept) November 17, 2015
He said the fight against ISIL is linked to the war in Syria, which the Vienna talks have attempted to address, but that efforts to tackle the militants must go on regardless.
"With Lebanon's attacks with what's happened in Egypt, with Ankara, Turkey, with the attacks now in Paris, we have to step up our efforts to hit them at the core where they are planning these things, and also more obviously do to more on borders and in terms of the movement of people," said Kerry.
Today, we are all French. The U.S. stands shoulder to shoulder with the people of France. https://t.co/jHcS6xZKwe

— U.S. Embassy France (@USEmbassyFrance) November 17, 2015
In London the British Prime Minister, David Cameron, said he would present parliament with a a comprehensive strategy for tackling ISIL, including air strikes in Syria.
"The more we learn about what happened in Paris the more it justifies the 'full spectrum' approach that we've discussed before in this House," said Cameron. "You need an approach that covers the full range – military power, counter-terrorism expertise and defeating the poisonous narrative that is the root cause of this evil."
On Tuesday Britain said it would almost double spending on cyber-security to prevent Islamic militants launching online attacks, and on increasing the number of intelligence officers and special forces.
The prime minister also confirmed that he would attend the France England football match in London on Tuesday evening.