Emotions run high as Greece remembers bloody 1973 student rebellion
Comments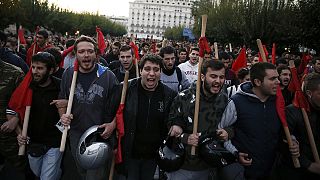 As on every November 17, an annual march was held on Tuesday to mark the anniversary of a 1973 student revolt that sounded the death knell for Greece's former military junta.
I feel that the vision of those who fought back then remains alive
The cost was high however. Tanks were sent in to crush the rebellion at the then Athens Polytechnic. It is thought dozens may have died.
Our correspondent in Athens, Stamatis Giannisis, said: "It has become something of a tradition to turn the commemoration of the 1973 student uprising into a protest against the policies of the government of the day. And it is apparent that the demonstrators are making no exception for the Syriza party of the radical left that has been ruling Greece for the past ten months."
November 17 protests can turn ugly and again, this year was no exception, with anti-government student factions throwing water bottles at Syriza ministers who accompanied Prime Minister Alexis Tsipras to a wreath-laying ceremony in the grounds of what is now called Athens Technical University.
Many on the far left accuse the Tsipras government of betraying the principles that first brought him to power.
The rebellion may have been 42 years ago but it still resonates in 2015.
"I was a young girl then, but after all these years and with everything that has been going on today, I feel that the vision of those who fought back then remains alive," said one woman taking part in the anniversary ceremonies.
University students hold a blood-stained Greek flag from the deadly 1973 student uprising in Athens. [AP] pic.twitter.com/2rdFrCrMmW

— Kathimerini English (@ekathimerini) November 17, 2015
As always, the march ended in front of the Athens US Embassy compound. Protesters accuse Washington of having supported the seven-year military dictatorship that began in 1967.