Spies must change tactics to face new 'hybrid war'
Comments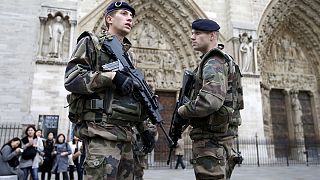 President Francois Hollande says France is at war.
In swift response to the deadly events in Paris the country has already launched massive airstrikes on ISIL targets in Syria.
The state of emergency is to be extended, soldiers are on the streets, the police and military are to be given extra powers.
Hollande has also pledged 5,000 more police officers within the next two years.
But exactly what kind of war is this? Who exactly is the enemy and what kind of response will work best?
Sophie Desjardin, euronews: "Alexandre Vautravers, defence and security specialist at the Global Studies Institute of Geneva University, we have heard the French authorities, not just the media and ordinary people, talk about war, then came the swift bombing of Raqqa. Was that the right response?"
Alexandre Vautravers, security expert: "We are right to talk about war, I think, but we have to realise this isn't a conventional war like the Second World War. There is a state-in-the-making in the Middle East which must be neutralised, stopped, and then there are also other threats on French territory."
euronews: "This means dealing with distant jihadists and with Europeans, French nationals at home who have embraced the jihadist cause and become radicalised. How can we fight on these two fronts?"
Vautravers: "Till now, the intelligence services have concentrated their research on links between the Islamic State movement and on the [European] networks that you have referred to. Since January and the terrorist attacks in Paris then, the terrorist network has camouflaged itself, put on a mask, changed its tactics, and so now the intelligence services and police research have to reinvent themselves as well, and find new leads to follow."
euronews: "What sort of leads?"
Vautravers: "We're talking about 'weak current', small amounts of money changing hands, tickets to travel in one direction ordered by one person and the return ticket ordered by another person. That's a lot of detective and information work, very detailed. And then, of course, the tools in the legal arsenal have to be adapted to terrorism and jihadism, which has not been done yet."
euronews: "We've seen it with Afghanistan, wars that are not won through large scale operations… what to concentrate on?"
Vautravers: "This adversary we're fighting is multifaceted. Today, we're talking about a hybrid war, and I think that's exactly true. What is a hybrid war? It's when your enemy doesn't only have one form, doesn't have a uniform. There are state-like components or states that support it. There is an aspect of organised crime about it, drug trafficking, weapons and people and a whole array of trafficking. And there are young people looking for a cause to embrace. Pressure has to be kept up on every nerve centre of this terrorist circuit board."
euronews: "Today has brought various troubling information, such as word that Turkey and Iraq alerted Paris several times that an attack was imminent. Does information gathering have a major weakness?"
Vautravers: "We have to understand that the individuals who should be monitored in France when there is a terrorist threat, just to give a round number, let's say around 10,000 people. We have to ask ourselves, are we truly ready in a state of law to accept close surveillance of 10,000 different people? You know that for every terrorist who disappears from the radar there are a dozen people helping him, hiding him. It is simply a question with a bearing on the state of law."
euronews: "How can France protect itself?"
Vautravers: "We can't keep ignoring our intelligence services, cutting back on them, giving them a toolkit from the 1980s. A lot of jihadist cells work through Internet sites, via apps, extremely modern tools that are very hard to track, an app that's there one moment and that will suddenly disappear, change names. In other words, we need the tools of today. That's the sense information gathering law is taking on in France, as far as I know."