Questions asked over Syrian passport found by body of a Paris suicide bomber
Comments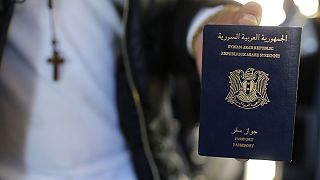 The reported discovery of a Syrian passport near the body of a suicide bomber outside the Stade de France on Friday seems to have raised more questions than it has answered.
Athens and Belgrade have confirmed that the document belonged to a migrant from the northwestern Syrian city of Idlib who registered as a refugee in Greece and Serbia last month.
But France has not publicly confirmed that the passport-holder is a suspect attacker and Greece has warned against mixing the two issues.
"It would be a mistake because of this terrorist to connect the migration issue with terrorism and for the refugees to suffer consequences because of this incident," said Greece's Migration Minister Yannis Mouzalas.
Nonetheless the discovery of the passport and that the holder took the migrant route through Europe to Austria has fuelled discord over the handling of refugees.
"Our demand and our will is that the migrant and refugee influx from Turkey to Greece should be monitored on the ground. Because you know, if somebody gets on a dinghy in the sea, we can have no control at all," said Mouzalas.
No connection to the Paris terror attacks has yet been proven but if it is it could change the political debate about accepting refugees. On the other hand ISIL may have deliberately left a Syrian passport behind hoping to stoke European fears about migration.