Muslims in France pray for peace
Comments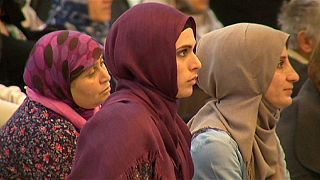 Muslims throughout France have been showing solidarity with their fellow citizens.
There are around five million followers of Islam in the country, or around seven-and-a-half percent of the population.
At the Grand Mosque in Lyon on Sunday the congregation prayed for peace.
"We are the ones who have to explain, to justify ourselves and to apologise for something that we haven't done," said rector Kamel Kabtane. "We are the ones who have to suffer the stares of other people. That's why today, like all people of faith, we have to be strong and move forward."
My name is Hamad. I am a #Muslim. I condemn the #ParisAttacks & with me Over 1.57 Billion Muslims do. Terrorists have no religion. #paris

— HamdullahLehri (@HamdullahLehri) November 14, 2015
Following a crisis meeting imams and other religious officials have agreed a common sermon that will be read out during this week's Friday prayers.