Fight against terrorism a "key theme" at G20 - Putin
Comments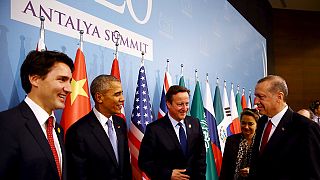 The G20 summit is over. Its like has never been seen before.
Beginning the day after the Paris attacks, the sombre mood at the talks was etched on leaders' faces.
"Syrian civil war must be brought to an end, and a fair and sustainable political transition must be ensured" #G20pic.twitter.com/KEa2rJ67yp

— Turkiye Newspaper (@tgnewspaper) 15 Novembre 2015
G20 piles pressure on Putin to help end Syrian war https://t.co/1Wl7RLu4hIpic.twitter.com/qs73XaLuBq

— Australian Politics (@Aus_PoliticsRR) 16 Novembre 2015
Tackling extremism and building international consensus on ending the conflict in Syria leapt to the top of the agenda.
#G20 Leaders agreed on a strong statement on the fight against terrorism; https://t.co/hjgkUC3Uhhpic.twitter.com/pmSGMPKJ5r

— G20 Turkey (@G20Turkey2015) 16 Novembre 2015
The world's 19 richest states plus the EU issued a statement condemning the recent attacks in Paris and Ankara and pledging closer cooperation.
Turkish President Recep Tayyip Erdogan hosted the summit:
"We have had talks over our joint responsibilities against the terror and atrocity of Daesh which has definitely no link with Islam. Protection of Syria's territorial integrity, eliminating terrorist elements in the country and restoring a plural, legitimate and democratic structure are the main targets of this process. Assad, who massacred his own people, has no place in the future of Syria."
G20 leaders disappoint climate campaigners with weak statement: https://t.co/8GldrZy1Gjpic.twitter.com/V1OPpyBWER

— Climate Home (@ClimateHome) 16 Novembre 2015