Paris: what is the story behind the Syrian passport?
Comments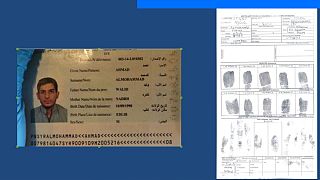 The reported discovery of a Syrian passport near the body of a suicide bomber outside the Stade de France on Friday seems to have raised more questions than it has answered.
BREAKING: Police officials: Syrian passport found on body of 1 suicide bomber at Paris stadium.

— The Associated Press (@AP) November 14, 2015
JUST IN: Photo of Syrian passport recovered at stadium bombing linked to migrant wave https://t.co/bLZUjWgRQ3pic.twitter.com/awmNZxwoR3

—

CBS

News (@CBSNews) November 15, 2015
Athens and Belgrade have confirmed that the document belonged to a migrant who arrived in Greece on the 3rd of October and who then travelled on to Serbia.
It is not known if the document is genuine, however, or if it belonged to the dead attacker.
Ahmad Almohammad routes

The Greek authorities have released this video, showing the routes possibly taken by a man using a passport in the name of Ahmad Almohammad. Almohammad registered as a refugee in Greece, his passport was found near the body of a suicide bomber in Paris. The text on the video says "No information if his passport was checked at the border".

Posted by euronews on Sunday, 15 November 2015
The document has been traced on the migrant route through Europe to Austria.
EU's Juncker says border policy should not change because of Paris attacks https://t.co/cT8pdsHn21pic.twitter.com/7qqGo4adYX

—

DAILY

SABAH

(@DailySabah) November 15, 2015
EU Commission President Jean-Claude Juncker has warned against linking the Paris attacks with Europe's migrant crisis.
"We should not mix the different categories of people coming to Europe. The person responsible for the attacks in Paris cannot be put on equal footing with real refugees, with asylum seekers and with displaced people. He is a criminal and not a refugee and not an asylum seeker."
Nonetheless, the attacks are fuelling discord in the EU on how to handle the flood of asylum seekers from Syria and other countries in the Middle East, Africa and Asia.
Some say the atrocities in Paris underline the need for tougher measures to control the flow of migrants.