Brussels arrests in connection with Paris shootings
Comments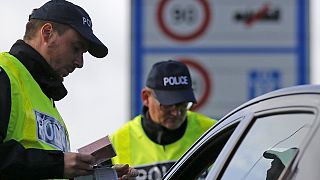 The authorities in Belgium say they arrested three people on Saturday in connection with the deadly attacks in Paris on Friday night.
The country has also announced that any events there will be subject to its highest level of security alert.
The three arrests were made in the Molenbeek district of Brussels after a car hired in Belgium was spotted near the Bataclan concert hall in Paris.
The prosecutor's office in Belgium has confirmed that an anti-terrorist investigation is underway .
"It is about a car that has been registered in Belgium and that was rented in Belgium and has been found in the direct location of the Bataclan," said spokesman Eric Vandersypen.
Police on both sides of the France-Belgian border were checking vehicles and ID's on Saturday after the announcement by Brussels that security would be stepped up in light of the Paris attacks that were claimed by ISIL.
In August an Islamist militant gunman's attempt to attack passengers on a high-speed train from Amsterdam to Paris was foiled. The man had originally boarded the train in Brussels.