Witnesses caught up in Paris attacks speak of terror
Comments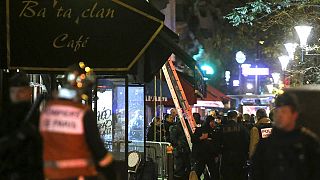 Some of the people caught up in the Paris attacks have been speaking to reporters about their experiences.
The most deadly incident took place at the Bataclan venue where around 1500 people were attending a concert by a rock band.
One of the survivors spoke to our correspondent James Franey:
"I was in the audience. The concert had been going for about an hour and then we began to hear very loud noises coming from the back of the room. After that people started to move, people began to panic trying to get out. I was in the stands. We hid on the floor behind the seats and began to crawl towards the emergency exits. We managed to get through the fire escape and hid in a room in one of the lodges. We barricaded ourselves in there and waited for the police to come."
Ultimately she was one of the lucky ones. Tens of others died at the hands of the gunman and many more were injured.