Sombre mood after Paris attacks
Comments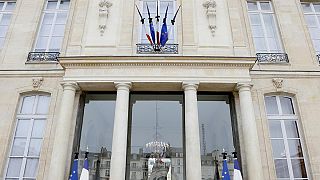 France has been on high alert since the attacks on the newspaper Charlie Hebdo and a kosher supermarket in January killed 18 people.
I don't know how to express my pain because a terrorist act doesn't move a country forward, it doesn't defend religion or humanity, it's just a savage act.
On Saturday morning (November 14), the mood in Paris was sombre as people came to terms with another terrorist attack on the French capital.
"I feel strong and determined," said one woman. " We must not be brought down and plunge into negative emotions, we must be resolute, and we must continue to live normally."
"Today I feel empty," said a man. "I came here because I was attracted to the place, having heard all night long. I needed to come here and feel what's happening, and understand. it's a tragic event, I've been through that before. I think it's the biggest attack that Paris, that France has ever seen, since I was born, I'm only 28. And I think it's a sign of a difficult life for everybody, because I think our lives are going to be full of that now, all our life, and there's no way to stop it. And it's very scary."
"It makes me feel very bad," said another. "It's not fair, I don't know how to express my pain because a terrorist act doesn't move a country forward, it doesn't defend religion or humanity, it's just a savage act."