Paris: what happened, when and where
Comments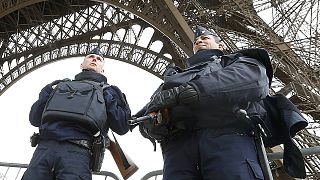 Officials say one of the attackers has been identified by his fingerprints.
The man is understood to have been born in 1985 near Paris and was known to police. He had been convicted for minor offences and a radicalisation dossier had been opened but had never been validated. He had never spent time in prison.
Paris Prosecutor François Molins talked reporters through the events of the evening.
"Faced with the atrocity of these crimes, we are more determined than ever in our fight."
At 25 past nine, while the match between France and Germany was taking place at the Stade de France, there was an explosion outside Gate D of the stadium on the rue Jules Rimet. We found two bodies at the scene, one of which appeared to be a suicide bomber wearing a belt of explosives.
Also at 25 past nine, at the junction of the rul Allibert and rue Bichat in the 10th arrondissement of Paris, people sitting in the Carillon and Petit Cambodge restaurants were shot at with Kalachnikovs. Casings from different calibre bullets were found at the scene, mainly 7.62 mm.
At this point, the death toll stands at 15 people with 10 injured and in a critical condition. At 2132, at the junction of rue Fontaine au Roy and the rue due Faubourg du Temple in the 11th arrondissement, there was further shooting in a bar called a la bonne biere. 5 people died and 8 were left in a critical condition.
There were further gunshots outside the Belle Equipe restaurant on the rue de Charonne at 2136. 19 people who were seated at tables on the terrasse were killed.
Around 2140, inside a restaurant called the Comptoir Voltaire on the boulevard Voltaire, a suicide bomber killed himself and was then found to be wearing a belt of explosives identical to those of his two contemporaries at the Stade de France.
At 2140, a black polo parked in front of the Bataclan music venue on the boulevard Voltaire. Three armed men got out and made their way into the venue, firing as they went.
They took several people hostage. We found some victims in front of the orchestra pit, where they seem to have sought refuge.
Eyewitnesses say the terrorists spoke of Syria and Iraq. Three terrorists died when the police stormed the building at 0020. The died after his explosives detonated and he was shot by officers. The two others were wearing bomb belts which they detonated when the police entered the building.
At this stage of the investigation, we can say that three coordinated teams of terrorists were behind the atrocity.