Venezuela President Nicolas Maduro's relatives arrested
Comments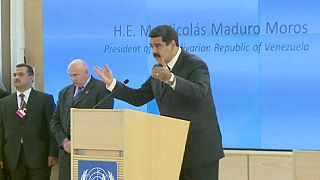 Two of Venezuelan President Nicolas Maduro's relatives have been indicted in the US for cocaine smuggling. The action comes at the end of an international sting which Venezuela cast as an "imperialist" attack. It's believed the move will further strain relations between the countries.
The court papers reveal few details beyond stating the two, who are nephews of the President's wife Cecilia Flores had been charged with one count of conspiracy to import cocaine.
Thirty-year-old Flores de Freitas and Mr. Campo Flores were arrested on Tuesday in the Haitian capital, Port-au-Prince. According to sources the first lady's nephews had contacted an undercover US agent about selling 800 kilograms of cocaine.