Ukraine passes law outlawing discrimination against gay workers
Comments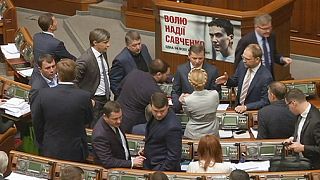 After several failed attempts, Ukraine's parliament on Thursday backed a bill that bans discrimination against gay workers – a pre-condition for the country to be considered for visa-free travel to the EU.
Passed after reassurances that it would not lead to same-sex marriage, the move marks a milestone in this predominantly Orthodox Christian society.
"It is important to show that Ukraine is a European country, not a crass Soviet state where you can still feel the Russian influence that invaded post-Soviet countries," said Volodymyr Ariev, MP, of the 'Petro Poroshenko Bloc'.
"It is difficult but Ukraine is trying to escape from a post-Soviet reality so it can enter a European one."
#Ukraine finally passes anti-#bias law, a prerequisite for #visa-free travel to EU https://t.co/KsXNqKddprpic.twitter.com/n3iJoT2QLC

— Kyiv Post (@KyivPost) November 12, 2015
But other members of parliament are less enthusiastic.
"Our society has different opinions on this issue," said Oleh Medunitsya, MP of the 'People's Front'.
"It is hugely polarised. I think the public reacted in a severe way to this draft law. And I don't like the way the document was put to a vote. It was an ad-hoc procedure."
Homosexuality itself has been legal in Ukraine since the fall of the Soviet Union, of which it was part, in 1991.
Thursday's vote comes as Ukraine completes a package of measures required by Brussels for visa-free travel to be considered.
Our correspondent in Kyiv, Maria Korenyuk, said: "To travel to Europe without visas, Ukrainians will first need the relevant recommendations of the European Commission and then a positive decision from the European Parliament. Kyiv hopes a visa-free regime with Europe will be introduced in 2016. But even then, only biometric passport holders would have the right to cross the European border without visas."