Greek 24-hour general strike as protesters demonstrate against austerity measures
Comments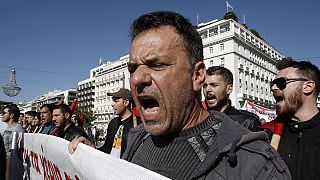 Workers in Greece have responded to austerity measures and taken to the streets of Athens. Three separate rallies led to the centre of the city being closed. Traffic ground to a standstill as protesters made their way to the Greek Parliament.
"This is the first general strike and the first major anti-government protest since the Syriza party's landslide victory in last September's snap general election, but with the pressure from the country's lenders it is unlikely that it will be the last one," explained euronews correspondent Stamatis Giannis in Athens.
Prime Minister Alexis Tsipras has had to accept unpopular terms for Greece's third bailout of 86 billion euros. The unions dubbed the 24-hour walk out "the mother of all battles" and it came as the international lenders met in Athens to review compliance with the latest package.
"This rally is a message to the government that the people are aware and on alert," said one man. "They have to find other ways and equivalent measures to avoid pension and wage cuts and provide better health care and social security," opined one woman at the demonstration while another added: "We must keep our children here, to work here, to create families here. Today we fight to keep Greece alive."
Public services and transport links were disrupted with metro, ferry and suburban rail services shut down. Public hospitals operated with skeleton staff while pharmacists, doctors, teachers and bank employees also walked off the job.
Police fired tear gas at a group of protesters who broke away from the march to hurl petrol bombs. Three policemen were injured in a separate attack and three people detained.
Analysts said the walk out illustrated the political juggling act Tsipras is trying to pull off with many in his party believing industrial action would strengthen his hand in talks with lenders.