French police accuse militants of inciting violence at Calais migrant camp
Comments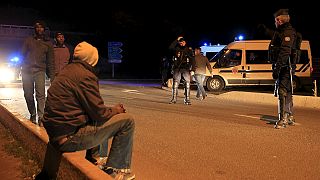 The French Channel port of Calais is struggling to cope with the thousands of migrants living in a makeshift camp waiting for an opportunity to smuggle themselves across the Channel to Britain.
Frustration has often boiled over and there have been several nights of clashes with police.
France has accused activists of inciting unrest. The interior ministry says militants calling themselves "No Borders" which is a far-left group that opposes border controls, are exploiting the misery of migrants and encouraging them to riot and to commit violence against the police.
However other activists working in the migrant camp see the situation differently. Rick Mellang of "Yorkshire Aid" said:
"We may be facilitating a rebellion at some point. Essentially, we distribute supplies which facilitate people to jump fences. If we do not give out these supplies these people will freeze to death."
Meanwhile Calais residents are growing more fearful of the violence. One man said he and his family barricaded themselves at home when around 200 people fought with police outside:
"I hope they do something to make them leave. I don't think they will, but I hope that at least they'll increase security measures to keep them from coming here or to keep them in their camp. Because it's becoming unbearable, unlivable."
Locals have formed a solidarity group called "Angry Calais Residents" in support of law enforcement, hoping police will stop migrants from entering the nearby housing estate.