Fourteen dead as migrant boat sinks off Turkey's Aegean coast
Comments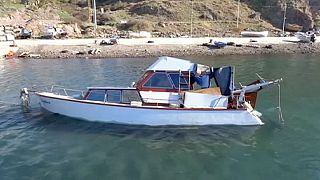 At least 14 people, including seven children, have died after their small boat sank off Turkey's Aegean coast.
The fatalities are the latest in the ongoing migrant crisis.

14 Migrants Drown When Wooden Boat Sinks off Turkey, VIDEO: At least 14 migrants… https://t.co/2jC2NDNAru#Anonymouspic.twitter.com/rJ7j6uYoWo

— ANONINTEL (@anonintel_adm) November 11, 2015
As many as 40 people were on board the overladen vessel .
An eyewitness described what happened: "Around 40 to 50 migrants were brought to the port in a truck and they boarded the boat. I think the captain, a Syrian man, was inexperienced. The boat hit the rocks as they set sail and it sank shortly after."

14 migrants die as boat sinks off #Turkey: Reports https://t.co/k3rpbESrOZpic.twitter.com/G7zV5fMUQE

— Hurriyet Daily News (@HDNER) November 11, 2015
The Turkish coastguard rescued 27 and recovered the bodies of the drowned.
They were heading from Cannakale to the Greek island of Lesbos.
Authorities say after the boat hit the rocks they continued on until they took in so much water they had to turn back, but sank before reaching shore.