Russia slammed for "cheating culture" in anti-doping report
Comments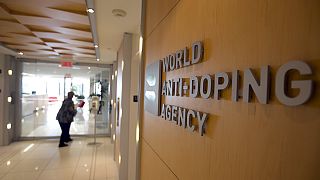 Russian Sports Minister Vitaly Mutko has strongly denied Russia state involvement in doping accusations released on Monday by the World Anti-Doping Agency. In an interview with Russian television, he said the independently commissioned report said nothing unexpected.
"Doping is not (just) the problem of Russia. Russia shouldn't be singled out. It's a world problem, and we know that all countries are fighting against this evil, and we also do that and will continue doing that. We created a serious system to fight against doping. We disqualify about two percent of athletes every year like other countries do," he said.
The report says Russia has a deeply rooted culture of cheating. It accuses the country's anti-doping agency of collusion and there being state sponsorship of the use of performance enhancing drugs.
WADA

's main findings
Scale of corruption goes beyond that of

FIFA

scandal, with results at international athletics competitions affected due to the cheating.
Inadequate testing and poor compliance around testing standards
Neither the Russian athletics federation (Araf) , the Russian anti-doping agency (Rusada), nor the Russian Federation can be considered anti-doping compliant.
Confirmed allegations that some Russian doctors and/or laboratory personnel acted as enablers for systematic cheating along with some athletics coaches.
The intentional destruction of more than 1,400 samples by Moscow laboratory officials after receiving

WADA

instructions to preserve target samples.
Russia gave athletes advanced warings of drugs testing, hid missed tests and bullies control officers to cover up missed tests.
Found that a number of Russian athletes suspected of doping could have been prevented from competing in the London 2012 Olympics had it not been "for the collective laissez-faire policy" adopted by the International Association of Athletics Federations (

IAAF

) and the Russian athletic federation.
Coe to look at possible sanctions
IAAF President Lord Coe has said the Russian athletics federation, Araf has been given until the end of the week to respond to the allegations. Coe who has just taken over at the helm of the IAAF after the federation's long-time president, Laimine Diack was accused of concealing a Russian athlete's doping violation, says he will be looking at a range of options, including sanctions.
WADA has called for Russia to be banned from international competions and for its athletes to be barred from taking part in the 2016 Rio Olympics.
Anti-doping report on Russia uncovers a "culture of cheating." https://t.co/WurYNmOeONpic.twitter.com/J90hOz37Ly

— SB Nation (@SBNation) November 9, 2015