Athletics doping report calls for Russia to be suspended from competition
Comments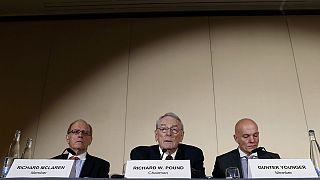 A report into doping in athletics recommends that Russia should be banned from international competition including the Rio Olympics in 2016.
The public view will move towards believing all sport is corrupt. If you can't believe results then there is a serious credibility problem.
The World Anti-Doping Agency commission report examined allegations of doping, cover-ups and extortion in Russian athletics.
The findings also identified 'corruption and bribery within the IAAF' at the highest level of international athletics, as well as 'systemic failures' in the IAAF that prevent an 'effective' anti-doping programme.
"For 2016 our recommendation is that the Russian Federation be suspended," the Chairman of the WADA Independent Commission, Richard Pound, told a press conference. "In fact one of our hopes is that they will volunteer that so that they can undertake the remedial work in time to make sure that the Russian athletes can compete under a new framework. If they don't then it has to play itself out and the outcome may be that there are no Russian track and field athletes in Rio. I hope that they recognise that it's time to change and make those changes."
The report also stated that the London 2012 Olympics were 'sabotaged' by the participation of Russian athletes who should probably have been under suspension.
The commission pushed for lifetime bans for the gold and bronze medal winners in the 800 metres at the games,
Mariya Savinova-Farnosova and Ekaterina Poistogova.
The commission said evidence had been handed over to Interpol who will launch a French-led international investigation into allegations of doping.
The commission chairman said: "The public view will move towards believing all sport is corrupt. If you can't believe results then there is a serious credibility problem."
Britain's Lord Coe, president of the International Association of Athletics Federations, said these were "dark days for the sport."