Pope Francis in Prato denounces exploitation of migrant workers
Comments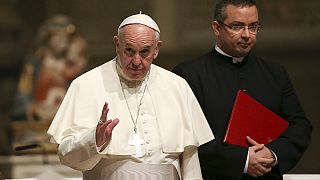 Pope Francis on a visit to Prato, a small town near Florence, denounced the exploitation of migrant workers and the sweatshop conditions many are forced to endure.
He chose Prato as the town is a magnet for Chinese nationals looking to work in the textile trade.
In December 2013 seven Chinese workers were burned to death in a fire in an unregulated factory after working a 16 hour-shift:
"Allow me to remember the five Chinese men and two women, who died two years ago due to a fire in the industrial zone of Prato. It is a tragedy of exploitation and of inhumane living conditions," he said.

#PRATO / Pope Francis spoke to a huge crowd in piazza del Duomo early this morning before … https://t.co/uMnSoYYc7dpic.twitter.com/eDLelmqP12

— The Tuscan Times (@TheTuscanTimes) November 10, 2015
Prato has a population of 191,000, official figures show 16,000 are Chinese.

Fire exposes illegal Chinese factories in Italy http://t.co/EAnp87Juiypic.twitter.com/SxMlRwWMgm

— Salt Lake Tribune (@sltrib) October 18, 2014
However, locals claim that if the number of clandestine workers are taken into account that figure could be as high as 50,000.
Authorities say great strides have been taken to enforce labour laws and to tax profits.