Muzzled: 'Godzilla' the monster alligator is snared on shopping trip
Comments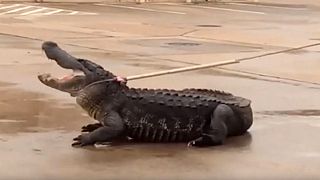 A shopping centre is not the sort of place you would expect to find a giant alligator.
But a beast dubbed 'Godzilla' had other ideas and wandered to the car park of a mall at Sugar Land, Texas – likely emerging from a nearby creek.
Weighing in at more than 800 pounds (363 kilos), the fearsome reptile would be a tough opponent for any ordinary Texan.
But his razor sharp teeth were no match for licensed 'gator grabber' – and full time dental hygienist – Christy Kroboth.
Assisted by a police officer, some rope and pink tape, she managed to snare and subdue thrashing Godzilla – blind in one eye and thought to be 50 years old.
Once restrained, the 12ft raging reptile was removed from the mall, near Houston, with the help of a forklift.
His shopping days over, he is set to spend the rest of his life in an alligator reserve.