Key vote could topple Portugal PM Coelho's minority government
Comments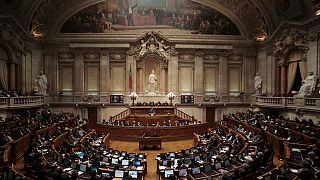 Portugal's prime minister has warned that leaving the path of reforms and meeting eurozone commitments would ruin the country.
Pedro Passos Coelho is facing a vote that could see leftist parties use parliamentary advantage to topple his minority government and back a new Socialist-led administration.
"I can't ignore [the fact that] the beginning of this new legislature is marked by decisions that break away from some of the parliamentary conventions of 40 years of democracy," said Coelho. "And, as a citizen, I don't hide the fear with which I look at the promises of new conventions that some parties want to bring to this mandate."
The Left Bloc, together with the Socialists and the Communist Party creates a bloc with a clear parliamentary majority.
Catarina Martins, the leader of the Left Bloc said: "Mr. Prime Minister, today we have indeed a very strange debate, because we are debating a government programme that ends before it starts. The rejection is already announced and you Mr. Prime Minister, soon will no longer be prime minister."
The unprecedented alliance looks set to topple the centre-right minority government just days after parliamentary elections.
The vote is likely to take place later on Tuesday (November 10)