Myanmar: Aung San Suu Kyi poised for landslide election win as ruling party concedes defeat
Comments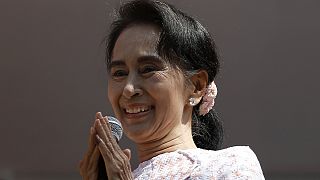 The opposition National League for Democracy of Nobel Peace laureate Aung San Suu Kyi says it has won a landslide victory in Myanmar's first free general election in a quarter of a century.
An NLD spokesman said the party had won more than 80 percent of votes counted so far in densely-populated central regions of the country, also known as Burma.
The acting chairman of Myanmar's military-backed ruling party has conceded defeat and said he would accept the result of Sunday's historic ballot.
"We lost," Union Solidarity and Development Party (USDP) leader Htay Oo told Reuters in an interview.
Sunday's election was a landmark in the unfinished journey to democracy from military dictatorship that made Myanmar a pariah state for so long.
But Suu Kyi, who spent years under house arrest, started the contest with a sizeable handicap.
The constitution still guarantees one-quarter of parliament's seats to members of the armed forces.
It also bars anyone with foreign children – such as Aung San Suu Kyi – from becoming president.
Human rights groups continue to criticise the detention of political opponents.
ALERT: Phyoe Phyoe Aung's husband, Lin Htet Naing, detained for student protest in #Myanmar. https://t.co/H9dDRoXPHLpic.twitter.com/Tc5GhwsvYq

— AmnestyInternational (@amnesty) 6 Novembre 2015
Aung San Suu Kyi's party has triumphed in all 12 seats declared by the electoral commission in the first batch of results.
It needs two thirds of all parliamentary seats to form Myanmar's first democratically-elected government since the early 1960s.