Thousands rally in Madrid against domestic violence
Comments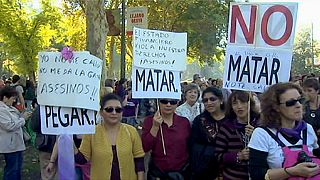 Some 21,00 people gathered in Madrid on Saturday to demonstrate against domestic violence.
Members of hundreds of women's groups from across Spain traveled to the capital to take part.
Forty-one women have died at the hands of their partners or ex-partners so far this year, according to Spanish government data. Only seven of the victims had complained before.
Taking part in the demonstration, former victim Olga Aranza said: "I think it's important that people like me demonstrate today, because I'm an example of a woman who's been able to get out of domestic violence.
"And that means that all abused women can also get out violence and that they deserve a better life. You really can get out."
"I think it's essential that we men also take part here in this demonstration, so that we send a clear message to women, telling them that they are not alone in this struggle," said demonstrator Miguel Navarro.
Spain is seen as a pioneer in Europe on legislation to combat violence against women.
A 2004 law introduced an emergency phone number that doesn't appear on the telephone bill – as well as free legal assistance and accommodation for abused women.