Polls close in Myanmar's landmark free election
Comments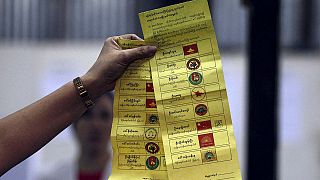 Polls closed in Myanmar on Sunday (November 8), with no reports of violence in the country's first openly contested general election in 25 years.
So far what we are observing is a procedure that looks as if it is rather reliable
The ballots are now being counted, and results are not expected until Monday at the earliest.
Opposition leader Aung San Suu Kyi's National League for Democracy (NLD) party is expected to make large gains. But the former political prisoner and Nobel Peace Prize winner is barred by Myanmar's military-drafted constitution from becoming president, even if her party wins a landslide.
Suu Kyi has derided the constitution as "very silly" and says that if her party wins a majority and is able to form Myanmar's first democratically elected government in half a century, she will be the power behind the new president.
Religious tension between Buddhist nationalists and the Muslim minority has also marred the election campaign. Around a million Rohingya Muslims have been excluded from voting.
Still, according to international observers, Sunday's election unfolded relatively smoothly.
"So far what we are observing is a procedure that looks as if it is rather reliable; it is not free of flaws or shortcomings, but we didn't expect that," said Alexander Graf Lambsdorff, chief observer of the EU election observation mission.
Voting smooth in #Myanmar's 1st free election for 25 years amid jubilant mood https://t.co/6K2NRL8h7Y#Myanmarvotespic.twitter.com/oephd36ruR

— TR_Foundation News (@AlertNet) November 8, 2015
More than 6,000 candidates from over 90 parties are vying for seats in Myanmar's parliament, in the nation's first general election since the end of the military rule in 2011.
Some 30 million people were registered to vote and turnout was high, at around 80 percent according to preliminary estimates.
Across the country, long queues formed at some polling booths, from which people emerged proudly showing their purple ink-stained finger — a mark used to prevent them from voting more than once.
purple inky pinkie: #voted#Myanmarvotespic.twitter.com/TLlKk2sci7

— Scott Ludlam (@SenatorLudlam) November 8, 2015