Merroussis clinches the 33rd Athens Authentic Marathon
Comments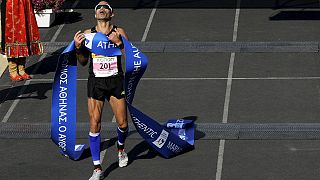 Local hope Christophoros Merroussis produced a superb display to clinch the 33rd edition of the Athens Authentic Marathon which gives runners a chance to follow in the footsteps of a Greek legend.
In 490 B.C., a soldier named Pheidippides ran from Marathon to Athens to deliver news of a military victory against the Persians. The marathon race was created in 1896 to honour this legendary feat while the Athens Classic Marathon has been held annually since 1983.
Merroussis, who completed the course in an impressive time of 2 hours, 21 minutes and 22 seconds, later told our euronews correspondent Ioannis Karagiorgas that he had suffered from pre-race nerves before dedicating his win to his son, in the hope that he would be proud of his father's efforts.
In the women's event, Japan's Minori Hayakari edged out Ourania Rempouli to seal the win with Magda Gazea having to settle for third place.
One photo, 1000 feelings!Congratulations to all runners who participated in today's #AMA2015 and 5k/10k Road races! pic.twitter.com/qWaMau4K8Y

— Athens Marathon (@AthensMarathonE) November 8, 2015