Clashes in Bologna ahead of planned Northern League rally
Comments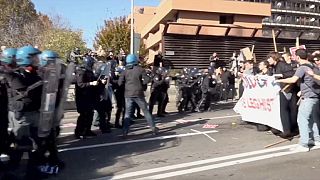 Police and protesters clashed in the northern Italian city of Bologna on Sunday (November 8) as hundreds of people demonstrated against a planned rally by former prime minister Silvio Berlusconi and the leader of the Northern League (Lega Nord) Matteo Salvini.
Protesters slammed Salvini as "racist" for his anti-migrant views.
At least one police officer was reportedly injured.
Salvini had planned to meet with Berlusconi to discuss a real political alliance to unseat the ruling Democratic Party in the next election.
This is not a return to the past, to 1994, to the old ways, to the 'coalitions-of-convenience', Salvini explained. "Something new is beginning that is led by the League, but that is also wide open to all Italians who are now distant from and disgusted by politics."
A heavy police presence had been planned to prevent clashes between Salvini supporters and left-wing radicals.
Berlusconi made just a brief appearance. Many people say the meeting of the right-wing League deliberately provoked those in the left-wing stronghold of Bologna.