Bucharest protests: death toll from club fire rises to 41, local mayor arrested
Comments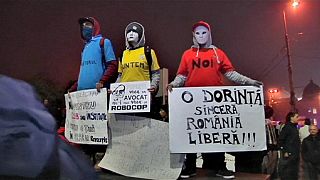 Anti-corruption protests have continued in the Romanian capital, Bucharest for a fifth night in the wake last week's deadly nightclub fire.
Civil society needs new leaders
Nine people died from their injuries on Saturday, bringing the death toll to 41. Some 100 people remain in hospital, dozens of them in critical condition.
Romanian Prime Minister Victor Ponta's government resigned on Wednesday, but that has not quelled the protest movement.
One young demonstrator explained his view: "The political parties are all locked in an old mentality, a mentality that's very difficult to change. Civil society needs new leaders, that's why we think snap elections are not the solution.
"Three months, the shortest period for snap elections to take place, would not be enough time for us to create, to rise up, to attract supporters."
Day 5 of peaceful protests in #bucharest#romania. We are #colectivpic.twitter.com/KGBZNP5k1A

— Rox Evergreen Andrei (@Evergreenstory) November 7, 2015
The fire broke late on 30 October at the Colectiv club when fireworks set insulation foam ablaze, triggering a stampede towards the single exit.
On Saturday, anti-corruption prosecutors said the Mayor of Bucharest, Cristian Popescu Piedone has been taken into custody.
The prosecutors cited evidence indicating that the mayor had granted a permit to the Colectiv Club despite it not being authorised by firefighters.