'We don't want the same lies': Fourth night of protest in Romania
Comments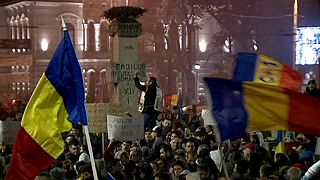 Thousands of demonstrators returned to the streets of Romania for a fourth night running on Friday to pursue their campaign for a cleansing of the political class in the wake of a deadly nightclub fire.
Having already brought down a government this week, the protesters are saying 'no' to more of the same and demanding a root and branch shake-up of a political system and public administration they claim is rife with corruption.
University Square in the capital, Bucharest, was again the centre of their rally.
"We are here to show them we don't want things to continue the same way – for some politicians to leave and then the same to come back," said one demonstrator.
"We don't want the same lies. We will not be tricked by one or two resignations."
"The problem is that the square, the street, cannot be represented through a few people," another said.
"President Iohannis and the political figures should come here…and speak to the people."
Romania's President Klaus Iohannis has said he will meet protesters on the ground.
In the meantime he has appointed an interim prime minister to replace Victor Ponta, who is facing trial for corruption and quit as premier amid the demonstrations triggered by last Friday's nightclub fire in Bucharest which killed 32 people and injured nearly 200 more.
#Romania's Victor Ponta resigned as PM over #corruption allegations, an issue I raised w him back in 2013 @euronewshttps://t.co/hIpcRB1GPK

— Isabelle Kumar (@Isabelle_kumar) 6 Novembre 2015
Talks to find a permanent premier have included members of civil society but many protesters are unhappy about those representing them and are demanding early elections.