EU awards millions in emergency funds to help Slovenia and Croatia handle migrant influx
Comments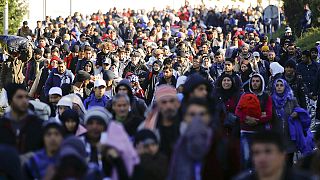 The European Commission has approved 10.17 million euros of emergency funding to help Slovenia cope with the massive and sudden influx of would-be asylum seekers transiting the country on their way to Western Europe.
Hundreds of thousands of people, many fleeing Syria's civil war, have taken the Balkan route from Greece this year.
Arrivals in Slovenia have accelerated since Hungary shut its southern border to migrants in mid-October, diverting the flow of more than 150,000 people westwards.
Tiny Slovenia, with a population of just 2 million, says it does not have the resources to cope.
With winter fast approaching, the cash will be used to improve accommodation for the migrants and refugees in Slovenia and help finance policing of its border with Croatia.
And given the huge numbers passing through Croatia, it will receive 16.43 million euros from Brussels in emergency funds.
Last month, EU and Balkan leaers agreed a 17 step plan to share the burden of the biggest migration crisis since the Second World War.
On their long journey, the migrants and refugees are also receiving support from local volunteers in the countries they are crossing and organisations such as Doctors Without Borders and the UN refugee agency (UNHCR).
How will we help refugees cope, away from home, this winter? https://t.co/n8UmbOEDUBpic.twitter.com/v7RWXDoVJE

— UN Refugee Agency (@Refugees) 6 Novembre 2015