Search for survivors continues after Pakistan factory collapse
Comments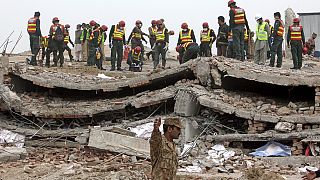 Rescue efforts have continued the day after a factory collapsed in Pakistan, as survivors trapped in the rubble pleaded for help on their mobile phones.
Some 100 people have now been pulled alive from the debris but at least 20 others died in Wednesday's disaster in the eastern city of Lahore.
The reasons for the collapse are unclear but reports suggest the factory's owner, who was adding an extra floor, may had ignored advice to stop construction work after cracks in the walls following a powerful earthquake more than a week ago.
The quake of magnitude 7.5 killed more than 300 people in Pakistan and the northern parts of neighbouring Afghanistan and damaged thousands of buildings.
Family home of Hadia and Hanifullah was destroyed in the Oct-26 #earthquakePakistan. They now live with relatives. pic.twitter.com/273StKhgAH

— UNICEF Pakistan (@UNICEF_Pakistan) 2 Novembre 2015
"We were working on the first floor when the roof collapsed," said one of the trapped factory workers, Liaqat Ali, who used his mobile to talk to a television station.
"Now, I can hear the rumble of heavy machines which gives me hope that I will come out alive."
Rescue officials have said 150 people were believed to have been in the building when it collapsed.
But search teams had to move slowly, government officials insisted, to avoid further injuries to those still trapped.
Many of those working at the plastic bag factory are said to have been children.
It is the latest tragedy to spotlight poor safety standards in south Asia.
In September 2012, 289 people burned to death in a fire at a garment factory in the southern city of Karachi.
On the same day, a fire at a shoe factory in Lahore killed 25.