Russia says it's not crucial that President Assad stays in power
Comments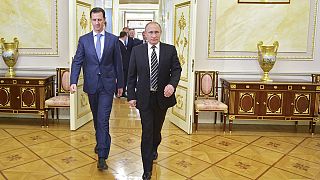 Moscow appears to be changing its stance regarding Syrian President Bashar al-Assad. A spokesperson for the Russian foreign ministry is on record saying that it is not crucial for Assad to stay in power, that it is up to the Syrian people to decide.
Maria Zakharova expanded her remarks in an interview on Russian radio:
"We've never said that Assad has to go or stay. What we did say is that the statehood of Syria is a key to fight terrorism, because without a Syrian state there will be no one to fight terrorists on the ground."
Russia is supporting the Syrian government with air strikes on what it says are terrorist targets and critics claim are rebel positions.
Assad's future has been a sticking point between those backing rival sides in the conflict. Moscow says it now plans to host a meeting next week between Syrian government officials and members of the country's opposition.
Last week world powers – including key Assad ally Iran for the first time – met in Vienna and agreed to renew efforts to end the conflict.
The ministers agreed to as the United Nations to start a process that could lead to a ceasefire and new elections. New talks are due in two weeks.