Man detained after armed standoff in San Diego
Comments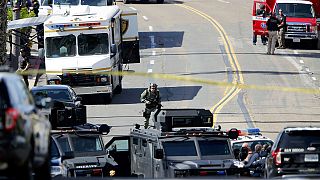 Police in San Diego arrested a man who had been holed up in an apartment after an armed standoff.
The suspect had began shooting at officers in the street following a domestic incident.
A SWAT team was moved into place, and locals told to stay in their homes. Flights were temporarily put on hold at nearby San Diego International airport. The standoff was in a neighbourhood east of its runways.
Police said they had been negotiating with the suspect, and reporters on the scene said teargas and flash bang grenades were also used before he was taken into custody.
There were no reports of injuries.