China-Taiwan: leaders to meet in Singapore
Comments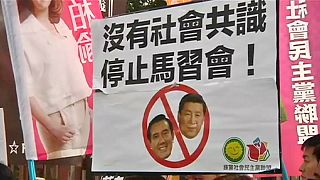 There will be an historic meeting between the leaders of China and Taiwan this weekend.
Chinese President Xi Jinping will meet his Ma Ying-jeou, his Taiwanese counterpart, in Singapore on Saturday.
#Xi, Taiwan's Ma to salute each other as "Mr." in historic Singapore meeting & have dinner https://t.co/77Q9rdJwlApic.twitter.com/nKwbe9Riy1

— China Xinhua News (@XHNews) 4 Novembre 2015
It is the first time leaders of the two countries have met.
Why is the Ma-Xi meeting significant?
China has claimed sovereignty over Taiwan since 1949.
The Nationalist government fled to the island after it was defeated by the Communists.
Beijing considers Taiwan as part of its territory and says it will counter any attempts to achieve full independence with military force.
However, relations have improved since 2008, when President Ma took office. His administration is seen as pro-Beijing.
Taiwan's "pro-Beijing" President Ma will meet China's Xi Jinping. Will his people approve? https://t.co/krpPKfB1Kopic.twitter.com/QxNpD1VI1j

— The Economist (@TheEconomist) 4 Novembre 2015
A spokesman for the Taiwanese government says the aim is to maintain the status quo or even improve relations between the two.
However, commentators say the historic Ma-Xi meeting is hugely politically sensitive.
The context
Will there be another China summit if Tsai-Ing-wen leads Taiwan? https://t.co/TZuwLDS32Npic.twitter.com/YugCmQHhvF

—

TIME

.com (@TIME) 4 Novembre 2015
There are elections in China in three months
Polls suggest the pro-independence, main opposition candidate Tsai Ing-wen is in the lead
She was a policy minister for the previous government which angered Beijing by pushing for formal independence
Chinese officials have so far refused to meet her
Protests in Taiwan
Hundreds in Taiwan protest Ma-Xi meeting https://t.co/H9RUQ6cEYdpic.twitter.com/fXZA4MBDEo

— Bangkok Post (@BangkokPostNews) 4 Novembre 2015
News of the unexpected meeting has prompted protests on the streets of Taiwan.
There is rising anti-China sentiment in Taiwan, particularly among the young.
Student protestTaiwan parliament overtaken by students in protest ofChina trade agreement … pic.twitter.com/dw5A78w8Qr

— 시발TV (@sibaltv) 28 Octobre 2015