Canada: Justin Trudeau breaks new ground as he is sworn in as PM
Comments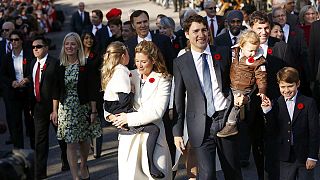 Autumn sunshine and adoring crowds were on hand as Liberal leader Justin Trudeau, 43, headed to his swearing-in ceremony as Canada's new prime minister on Wednesday.
Trudeau is the first son of a premier to take office in Canada and the second-youngest PM in the country's history.
He was accompanied to the Governor General's residence in Ottowa by his wife and their three young children as well as his mother, Margaret Trudeau, who gave birth to Trudeau and his two brothers while his father Pierre Trudeau was in power.
Pierre Trudeau, who died in 2000, was in power for 15 years – with a brief interruption – and remains one of the few Canadian leaders to be known abroad.
Trudeau junior, who has promised a more optimistic government after a decade of Conservative rule, has already broken new ground by announcing an equal number of men and women in a slimmed-down Canadian Cabinet.
And, for the first time, he has named a leader from the indigenous aboriginal community – Jody Wilson-Raybould – as Justice Minister.
The Cabinet also included rookie politician Bill Morneau as finance minister and former Liberal leader Stephane Dion as foreign minister, a mix of experience and fresh faces reflected in the rest of the team of ministers.
Trudeau, a former teacher, took charge of the party just two years ago and guided it out of the political wilderness with a pledge of economic stimulus and stirring appeals for a return to social liberalism.
He has already laid out the major planks of his economic plan, which includes running three years of budget deficits and boosting infrastructure spending in a bid to stimulate Canada's flagging economy. The new government has also pledged to raise taxes for the richest Canadians and cut taxes for the middle class.
We're hard at work in the transition office! Lots of phone calls and planning. I'm looking forward to what's next. pic.twitter.com/epzvYZ4cCj

— Justin Trudeau (@JustinTrudeau) 29 Octobre 2015