Spanish say imminent attack foiled and claim ISIL cell is busted
Comments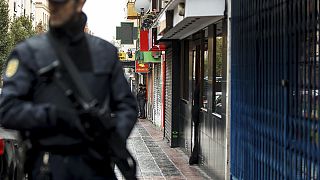 Spanish security forces have swooped on a number of sites in and around the capital Madrid and have made a number of arrests.
Notably police say they have arrested what they are describing as a small Islamist cell on Spanish soil sent by ISIL for the express purpose of committing a terrorist act.
Three men have been accused of preparing an attack, while the majority of the others arrested are suspected of being involved in the recruitment of fighters to go to Syria and Iraq.
Spain is redoubling efforts against terrorism. Over 80 people were detained in October alone as fears rose about people returning home after fighting in the Middle East.
Basque separatists ETA also remain on the government's list of terrorist organisations and Madrid does not intend to cut them any slack, either, even if there is a ceasefire in place.