Pegida: German Justice Minister likened to Goebbels
Comments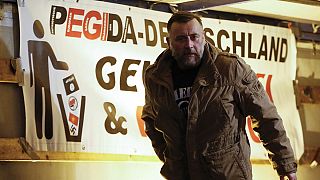 There is outrage in Germany after the leader of the far-right Pegida movement likened the country's justice ministed to a notorious figure from the Nazi era.
Speaking at a rally in the eastern city of Dresden, Lutz Bachmann described Heiko Maas as the "worst thing to have happened since Goebbels."
Justizminister Heiko #Maas wird keine Anzeige gegen den #Pegida Mann Lutz #Bachmann stellen. #goebbels Vergleich. pic.twitter.com/wZT52X4yZs

— Onlinemagazin (@OnlineMagazin) November 3, 2015
29 October 1897. Joseph Goebbels was born Rheydt, Prussia. He was the propaganda chief of Hitler's Germany. pic.twitter.com/lF13t74e6S

— Prof.Frank McDonough (@FXMC1957) October 29, 2015
Joseph Goebbels was Minister of Propaganda for the Nazi regime.
Supporters of Heiko Maas have denounced the comparison as "monstrous".
Maas is a member of the SPD. There is talk of possible legal action.
Random House cancels author's contract
A publisher has severed links with a controversial Turkish-German author after comments he made at a Pegida rally two weeks ago.
Penguin Random House says it has cancelled its contract with Akif Pirinçci after his remarks about concentration camps.
Who are Pegida?
Pegida is a German political movement based in Dresden.
It claims to be anti-Islamic and against what it says is the growing influence of Islam in Europe.
The group denies that it is a racist organisation but says it is opposed to the levels of immigrants coming to Germany.
Pegida has been holding marches on Monday evenings in Dresden since the start of the year.