Myanmar elections 'free', except Buddhists stifling minority Muslims
Comments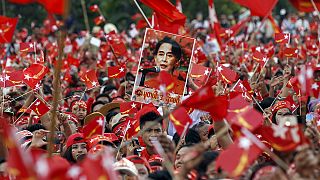 Myanmar has been preparing for its first free elections in 25 years. This Sunday 8th November, 30 million Myanma are expected at polling stations to elect three quarters of the members of the 664-seat bicameral parliament. One quarter of all the seats are reserved for candidates put up by the military, which has governed the southeast Asian country for half a century.
Of the 93 parties participating, the National League for Democracy (NLD) is the most popular, led by Nobel Peace Laureate Aung San Suu Kyi. Although much-loved by the people, the junta kept her under house arrest periodically for 15 years, until 2010. She is a reformist, determined to guarantee minority and religious rights in mainly Buddhist Myanmar. Detractors accuse the Union Solidarity and Development Party (USDP) in power, supported by radical Buddhist monks with strong rural influence, of manipulating religion for electoral gain.
Reforms carried out under President Thein Sein since 2011 have led to a gradual lifting of international sanctions imposed on the regime.
In 2011, the junta dissolved itself, opening the way for a government under a civilian president for the first time.
Myanmar began opening up, political prisoners were released, censorship was eased; and yet lately the country bordered on three sides by Bangladesh, China and Thailand has seen an increasingly anti-Muslim climate take hold.
Only a handful of the some 6,000 candidates in these elections are Muslims. Even Suu Kyi's party has yielded to the radical monks' pressures not to field any Muslim candidates, even though 5% of the Myanma population of 51 million is Muslim. Around one million Rohingya Muslims do not even have the right to vote.
The Rohingya originally from what is today Bangladesh and who migrated under the British Empire, are persecuted as non-citizens in Myanmar.