Spanish political newcomer Ciudadanos gaining on ruling PP
Comments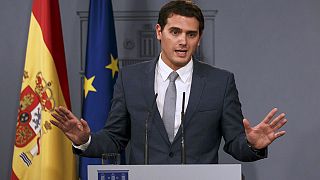 One of Spain's newest parties Ciudadanos would come a close second to the Prime Minister Mariano Rajoy's ruling People's Party (PP) if December's general election was held now.
That's according to a newly released opinion poll. Although originally Catalonia based it has expended nationally and is now ahead of the main opposition Socialists and Podemos..
The survey published by El Pais says backing for the party has jumped to 22.5% That compares to 16.1 before September, when it made gains in regional elections in Catalonia to become the second biggest group in the assembly there.
The centre-right People's Party is still seen as likely to win the December 20 election, with 23.5%.
All four parties want Catalonia to stay in Spain although Podemos has said it would support a referendum on the matter.