Sinai plane crash: first bodies arrive back in Russia
Comments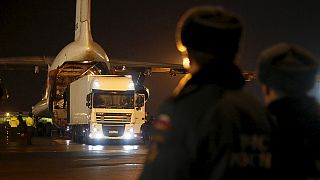 A plane arrives on the tarmac at Pulkovo Airport in St Petersburg.
But this is no ordinary flight. On board are the first 144 bodies recovered from a plane crash in Egypt at the weekend which claimed 224 lives.
#Russian airliner crash in #Egypt: #Plane broke up 'in the air'… https://t.co/W9eurGT8Alpic.twitter.com/4jCzn7PhYH

— Emirates 24|7 (@Emirates247) November 2, 2015
Friends and relatives have laid flowers in tribute.
Most of those on board were Russian holidaymakers travelling back from the Red Sea resort of Sharm el-Sheikh.
One man said he had brought his wife's doll. "It is the one she played with as a child," he told reporters. "I don't have words to describe how much we are suffering. Let this be the last tragedy like this in our history."
What we know about Flight KGL9268
The Airbus A321 was 22 minutes into a flight from the Red Sea resort of Sharm el-Sheikh in Egypt on Saturday afternoon
The destination was St Petersburg in Russia
There were 224 passengers and crew on board. The majority of the passengers were Russian holidaymakers
The aircraft was at an altitute of 9,450 metres when it disappeared off radar screens.
The airline Kogalymavia has blamed "external activity" for the tragedy
Officials have declared a period of official mourning that will last until Tuesday when the remaining bodies will be repatriated.
Dmitry Medvedev issued instructions to set up a government commission to investigate the crash of a Kogalymavia airliner #7K9268

— Government of Russia (@GovernmentRF) October 31, 2015
"This is an immense tragedy. My condolences to the relatives and friends, to the people of St Petersburg, my native city, to those in other cities, to the citizens of Ukraine, Belarus and to all their friends and relatives," Russian government spokeperson Sergei Ivanov told reporters as he placed flowers at the impromptu shrine at the airport.
A fleet of ambulances took the bodies away for official identification to be carried out.
What caused the crash?
The Russian passenger jet that crashed in Egypt with 224 people on board may have split in the air. https://t.co/HkHHXvwJF4

— Wall Street Journal (@WSJ) November 1, 2015
Officials say the Airbus A321 operated by Russian airline Kogalymavia broke up in mid-air.
Wreckage, including both black boxes, has been found on the Sinai peninsula.
Russian plane crash: 'Victims' belongings lie strangely in the middle of the Sinai desert.' https://t.co/c4YEBLx537pic.twitter.com/hSBkTllk7E

— The Telegraph (@Telegraph) November 2, 2015
Experts say it is too early to draw conclusions about what caused the disaster.
The crash will be thoroughly investigated. Everyone affected by the tragedy will receive assistance #7K9268

— Government of Russia (@GovernmentRF) October 31, 2015