Champ Ham, Rocket Rosberg, Valiant Mansell, and masked men
Comments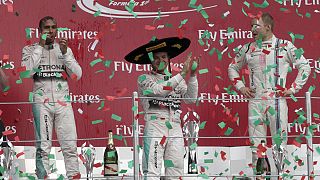 This week's edition of Speed sees Lewis Hamilton already crowned Formula 1 World Champion for the third time with three races to go. He still has to wait a little longer before he can go on holiday, although some might say his life is one long party.
This weekend he travelled to Mexico for the 17th race of the season. Could the Englishman maintain his intensity?
Mexico returns to F1 action after 23-year gap
For the whole race the Englishman had to play second fiddle to his German co-driver, Nico Rosberg looking totally in control from the start, as much as Hamilton has been until now.
Every time the world champion pulled a fastest lap out of the hat to close the gap, Rosberg did too as Mercedes let the two men race. Even a safety car did not allow Hamilton to get back at the German, who scored his fourth victory of the season.
The third-placed finisher is nearly 15 seconds off the pace such is the Mercedes' dominance, and with Felipe Massa in sixth it is one of the better weekends for Williams. The two Red Bulls took fourth and fifth.
Mansell rules at last ride on Mexico's autodromo
Although Formula 1 is highly popular in Mexico, it has been 23 years since the Autodromo Hermanos Rodriguez in Mexico City last held a race. Its bumpy track is legendary, its 180 degree Peraltada corner notorious, so if you take a close look at the 1992 season, you know that there could only be one winner. Williams had a lock-hold on that year's killer technology, active suspension, and filled their boots.
Nigel Mansell won his second race of the year and he went on to win seven others for his only world championship title.
This particular race was a Williams one-two procession, and notable for one thing only.
The first podium finish for a certain young tearaway Michael Schumacher.
Don't give up the day job, Lewis
Lewis Hamilton had no real rivals in Formula 1 this season, so maybe the time has come to try a new sport. Being in Mexico, he challenged El Mistico, one of the country's star wrestlers, to a fight. Was he up for it? What do you think?