Bodies of migrants and refugees wash ashore on Greek island of Lesbos
Comments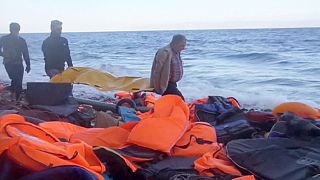 Eight bodies washed up on the shore of the Greek island of Lesbos on Sunday morning – migrants and refugees who did not survive their boat journeys to reach Europe.
They are among dozens of people that have died trying to reach Lesbos and other Greek islands from Turkey.
On Sunday morning, 11 people, including six children drowned near Samos.
Two people also drowned off the coast of Agathonisi.
The sea crossing from Turkey is becoming increasingly dangerous as winter approaches.
More than 580,000 migrants and refugees have landed on Greece's shores so far this year, according to the UN.