Progress made in Syria talks but disagreement over Assad
Comments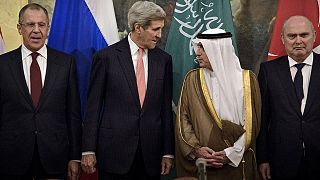 Foreign powers meeting in Vienna with the aim of finding a solution to the civil war in Syria have said advances has been made but substantial differences remain.
The talks, which have included Iran for the first time, failed to reach agreement on the future of President Bashar al-Assad.
Fresh negotiations are set to take place in two weeks.
"Sergei Lavrov and Foreign Minister Zarif and I and others agreed to disagree. The United States position is there is no way that President Assad can unite and govern Syria. We believe that Syrians deserve a different choice and our goal is to work with Syrians from many factions to develop that choice. We can't allow that difference to get in the way of the possibility of diplomacy to end the killing and to find a solution," explained US Secretary of State, John Kerry
Moscow disagrees with the US over the fate of the President Assad – believing instead that decision should be left up to the Syrian people. Despite their differences the Russian Foreign Minister, Sergei Lavrov, said "neither the US or Russia want to go back to the so-called proxy war."
Among the points agreed at the talks are a new constitution in Syria and UN-back elections.
Euronews' correspondent in Vienna, Daleen Hassan, reported that after "long hours of difficult talks, a new meeting has been scheduled for November. At the top of the agenda will the future of President Bashar al-Assad. Observers have noted the presence of representatives from both Riyadh and Tehran signaling a willingness for closer international and regional relations with the clear aim of finding a lasting political solution to the Syrian crisis."