Saudi Arabia promises "all support necessary" to Syrian allies
Comments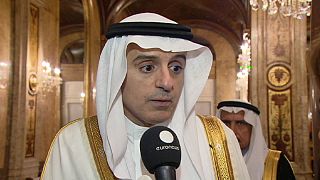 euronews' Daleen Hassan poke to Saudi Arabia's foreign minister Adel al-Jubeir after the talks in Vienna, which concentrated on Syria but also included Yemen.
"We have maintained that Bashar al-Assad has no role in Syria's future and that he must leave at some point in this process. So we have always called for this and our position has not changed. We have also called for the withdrawal of foreign forces from Syria, we believe for example that the Iranian forces are occupying forces in Syria. This is unacceptable. We have reiterated this position today during the meeting. There was an agreement at the meeting with regards to a commitment to a Syria whose territorial integrity is maintained, a future Syria that would be democratic in which the rights of all its minorities and citizens are protected. There was agreement on the need to provide for more humanitarian access so that we can provide humanitarian supplies to the Syrian people."
"And with regards to at what point the foreign fighters, the foreign forces leave Syria, there was a major disagreement on these issues we were not able to bridge. A small number of countries insisted on this, Iran and Russia and one or two others: the vast majority of countries were for a clear definition of the departure of Bashar al-Assad and the departure of foreign forces. We made it very clear to the group that we are committed to supporting the moderate Syrian opposition in every way we can and we will continue to do so. We also made it very clear that our preference is for a political solution that can be arrived at faster but we are committed to supporting our Syrian brethren with all the support that they need in order to achieve a military victory."
Although Syria is by far the bigger problem, Yemen also figured in the talks. The forgotten war is no less bloody, and is another area where Iran's interests differ widely from the Gulf Arabs.
"Well we said that we believe that the Yemeni war, there are indications that the war in Yemen is entering a final phase. I can't tell you if it will take weeks or months but I can tell you that the legitimate government forces are now in control of the vast majority of Yemeni territory. There still remain some areas that need to be liberated including the capital, Sanaa, but the trend is moving in the right direction.
The Houthis and the Yemenis have every right to be part of the Yemen political process, we have said that from the very beginning. The only thing they cannot have is they can't have a privileged position because that would distinguish them from other Yemenis and that would not be fair. And they cannot have a militia outside of the institutions of the state."