Turkey snap election: AK Party in front but overall majority uncertain
Comments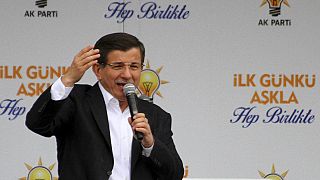 With Turkey's snap general election just days away, the main political parties have been campaigning hard across the country.
In the latest opinion polls, the ruling AK Party remains ahead, however it remains unclear whether the group will have enough votes on Sunday to form a single-party government.
The vote was called after Prime Minister Ahmet Davutoglu failed to form a coalition in the Ankara parliament following June's election.
The main opposition party is the centre-left CHP, led by Kemal Kılıçdaroğlu. They are set to attract around a quarter of the votes followed by the pro-Kurdish HDP and the Turkish nationalist MHP.
Meanwhile, the election campaign comes as two television channels part of an opposition media company went black and two newspapers from the same group were blocked from being distributed following a crackdown on companies linked to a US-based cleric and critic of President Tayyip Erdogan.
Turkey sits in the lower half of the World Press Freedom Index, a position that is rejected by Ankara.