Biden apologizes over Olympic meeting "oversight"
Comments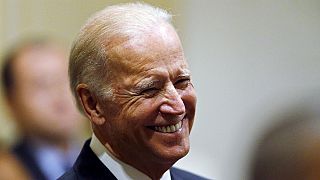 U.S. Vice President Joe Biden apologized on Friday after no senior administration official greeted Olympic delegates at a worldwide meeting in Washington.
The Association of National Olympic Committees (ANOC), which represents 206 national federations, had been in the U.S. capital since Tuesday before opening their general assembly and gala awards ceremony on Thursday.
The United States has not hosted the event for 21 years, but the practice of a senior government official of the host country to address the opening session has remained the same.
The absence of a representative from the U.S. government was noted by the sports bodies, and pushed by Los Angeles Mayor Eric Garcetti, Biden arrived unannounced Friday morning in a bid to make amends.
"My very good friend Mayor Garcetti of Los Angeles was having breakfast with me the other morning and he said, 'You know, I think there has been an oversight , no one from the administration has been here to welcome this distinguished delegation of leaders from around the world'," Biden told the meeting.
"He is right, it was an oversight and for that I apologize and I am poor substitute, but I am delighted to be here," he said in an apparent reference to President Barack Obama.
The error was initially seen on the opening days as an embarrassment to the U.S. Olympic Committee (USOC) and as part of the fallout from Chicago's failed bid for the 2016 Olympics.
President Barack Obama had flown out to Copenhagen to personally speak at the 2009 International Olympic Committee vote, only for the American city to be eliminated in the first round.
But Biden's attendance would have come as a relief both to the USOC and the Los Angeles 2024 Games bid committee, who have been working to improve relations with Olympic officials, after the 1984 Olympic host city replaced Boston as the American front-runner.
"I'm not here lobbying for any city, though I do love Los Angeles," Biden said. "All kidding aside, Garcetti is my friend and he won't let me back in L.A. unless I say something nice."
Biden sought to calm nerves and underline his commitment to a U.S. by adding: "I'll be the captain of the U.S. Olympic team. "I'm running the 100 meters. Don't I wish I could."
Boston pulled out of the bidding race in July after its Mayor refused to contribute towards the eventual bill.