Abu Dhabi Grand Slam: day one round-up
Comments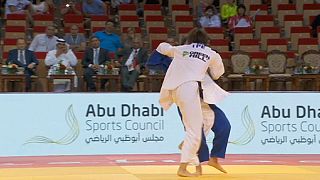 Irina Dolgova surged to the first Grand Slam gold medal of her career on Friday in Abu Dhabi.
The Russian defeated European Games silver medallist Ebru Sahin of Turkey in the under 48 kilo final after forcing her opponent into submission courtesy of an arm lock 67 seconds into the fight.
It took French judoka Annabelle Euranie less time to win the -52kg category.
Euranie emerged from a high-quality field to shock world bronze medallist Erika Miranda of Brazil by ippon after just 26 seconds.
It was the first defeat for Miranda since the 2013 European Championships.
Tashkent Grand Prix winner Kim Jan-Di of South Korea won her second consecutive IJF World Judo Tour title downing Taipei's Lien Chen-Ling in the under 57 kilo final.
KIM continued her upward trajectory towards the summit of the category courtesy of fewer penalties.
Georgia's Amiran Papinashvili pipped Junior world silver medallist Tsogtbaatar Tsendochir of Mongolia to the under 60 kilo title.
Despite his defeat 19-year-old Tsendochir sounded the warning bells for the next generation of stars with a spirited display – although not quite enough to upset the odds on this occasion.
World champion An Baul of South Korea won his first Grand Slam gold medal in style beating Olympic champion Arsen Galstyan of Russia in the -66kg category.
An picked up the shiniest of medals courtesy of fewer shido penalties.