Saudi blogger Raif Badawi wins Sakharov Prize
Comments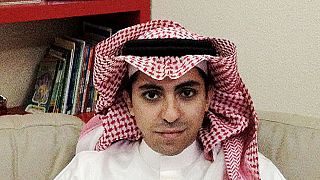 The Saudi Arabian blogger Raif Badawi has won this year's Sakharov Prize.
Raif Badawi
Fortunately Raif Badawi was not flogged today in #Saudi.
Blogging is NOT a crime. #FreeRaifpic.twitter.com/5YHbXThpYO

— Edward Herbert (@ed_herbert) October 23, 2015
Mr Badawi is a Saudi Arabian blogger. He was arrested in 2012 and later sentenced to 10 years in prison, 1000 lashes and a hefty fine after the authorities ruled he had insulted Islamic values on his website.
The first 50 lashes were administered in January 2015.
What is the Sakharov Prize?
The European Union's top human rights award. Established in 1988, it is awarded to those "who have made an exceptional contribution to the fight for human rights across the globe."
How often is it given out?
Every year. MEPs and political groups in the European Parliament make submissions to the Foreign Affairs and Development Committee, which then votes to choose a shortlist of nominees.
The winner is chosen by Parliament President Martin Schulz (PES).
Who was nominated this year?
Saudi blogger Raif Badawi (the eventual winner), the democratic opposition in Venezuela and the murdered russian politician Boris Nemtsov.
Boris Nemtsov
Yesterday marked eight months since Boris #Nemtsov was murdered. RIP. pic.twitter.com/i2zl3uWknq

— Anna Laura Welsh (@AnnaLauraWelsh) October 28, 2015
Boris Nemtsov was a russian opposition politician and former deputy prime minister. A vocal critic of the government, he was assassinated in Moscow in February 2015.
Mesa de la Unidad Democrática
The election coalition formed in 2008 to unify the opposition to President Hugo Chavez' political party. Campaigners say politicians, students and opposition leaders have been detained for exercising their right to freedom.